After the Spring/ Summer '13 Fashion weeks last year, it's safe to say that we all should have seen at least one article in a magazine on the trends that were seen. However, I've put together a list of the top six just to condense them to an easy- peasy shopping list for you!
1. ORIENTAL
Ok, so basically I love Asians, I think they're amazing at pretty much everything and not so secretly wish that I was Asian. JUST TO PUT IT OUT THERE. But anyway, there is a definite oriental feel coming from the catwalks and shops even at the moment, I myself bought a blue oriental- style blouse from Topshop last month, so it has slyly been creeping in. Love the trend, I think the patterns really spice up Spring/Summer more than usual. So I've found you a couple of examples below from Topshop that you might like.
Oversize Porcelain Bird Shirt- £40.00
Buy it here at Topshop
Premium bird embroidered shirt- £65.00
Buy it here at Topshop
2. CROPPED
Sometimes we all feel like having a lazy day, off from waxing and shaving and just want to wear jeans in Summer! So to give yourself that cheeky little edge to a pair of jeans, crop! Avoid rolling them up, it does not always look as good as you think. But there should be plenty of fab options soon as the Spring/Summer trends hit the stores. Also, cropped tees are back and as long as they're not inappropriately small, they can make the best casual Summer item.
NOTE: The Seamed Ankle Cigarette Jeans by Urban Outfitters below- LOVE.
BDG Seamed Ankle Cigarette Jeans- £50
Buy here at Urban Outfitters
Poppy 'Eye See Everything' Stud Crop Tee- £10.00
Buy here at Boohoo
3. WHITE/ MINIMALISM
White is a trend that reappears EVERY Spring/Summer purely because it is the colour that is most associated with a Summer's evening- for example Daisy in the Great Gatsby in her flowing white gown- to get a bit nerdy. There are UNLIMITED options for this trend, everywhere you go. But I managed to find this absolutely cute, cute, cute dress at New Look for the amazing price of £27.99 so I thought it HAD to be shared. It's sweet and simple, a perfect quick Summer buy.
White crotchet lace 3/4 sleeve skater dress- £27.99
Buy here at New Look
Casual Seam Detail Tee- £32.00
Buy here at Topshop
4. SIXTIES
So, Cara is wearing Moschino which I wouldn't call particularly affordable, but it's Cara and I love her, so it had to be done.
Cara Delevingne - VOGUE
5. SHEER/ MESH
Again to link with the trend of Summer WHITE would be sheer, mesh and chiffon fabrics as I believe we've really had enough of black this Autumn/ Winter and personally I need to get out of the comfort zone of black twenty- four/ seven! So this cute, white sheer blouse would be a good start if you're like me and are seeking a slightly cheeky alternative to the conservative den of your black clothing.
Sparkle & Fade plain long sleeve chiffon shirt- £32.00
Buy here at Urban Outfitters
Leanne Cropped Crotchet Metallic Foil Top- £10
Buy here at Boohoo
6. FLORAL
Floral- another Summer repeat. I will be scavenging amongst my wardrobe very soon to pull out all the floral gear from previous years, but here's a couple of examples to help if you haven't been the most flowery person in the past and fancy a change.
NOTE:Whilst searching for floral examples I came across this River Island dress and it is ONLY £10 on reduction. One of the best buys I've seen for a long time, so GET SHOPPING?!?!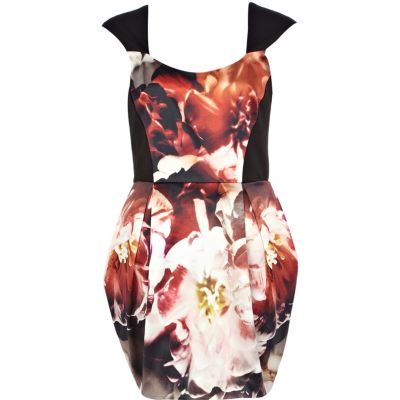 Black floral print structured dress- £10.00
Buy here at River Island
Floral Pleat Front A-line Skirt- £38.00
Buy here at Topshop
Little White Lies flower child floral print - £85.00
Buy here at Urban Outfitters
Voila! Hope this helps!
Happy shopping,
Love Emily X